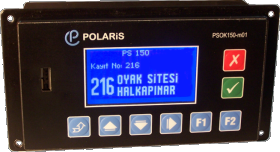 Control unit is an integral part of passenger information systems which are used in public transport systems. Data transfer to panel, panel status query, line number entry are a few operations that can be held by the control unit.
Keypad and LCD display are located in  front of the control unit. Connectors for cable connections are on the back side of the device.  Ergonomic case of the control unit helps it to be mounted on front panel of the vehicle or  another appropriate area near the driver.
Entering commands to control unit is done by using a membrane keypad. Graphic LCD eases panel data entry and informs the user.

Loading data to control device and panels  is done via USB flash memory.
Specifications:
Display type

:

Graphic LCD

Backlight

:

Yes

Available languages 

:

Turkish / English (standard)
Different languages can be added.

Supply voltage

:

24V. DC   ( May be 12V. DC if requested )

Case material 

:

Black  ABS

Case dimensions

:

153 x 83 x 50 mm